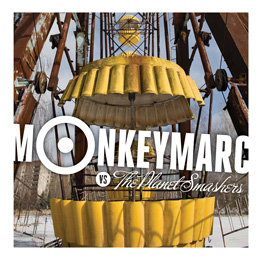 (click HERE to enlarge)
Coming straight from a solar powered shipping container in Australia is this heavy twelve by
Melbourne's number one sampling warrior Monkey Marc, who's mashing up Hip Hop and Dub inna
down under style like no other. With the analogue filter modules in constant overdrive mode,
a groove not found on any map and a bass too deep to measure, this rugged masterpiece
develops a complete life of it's own. All faithfully recorded to cassette and then dubbed out to the
max by disrupt - including a dub of Roots Manuva's "Who Goes There" (from his 4everevolution LP).