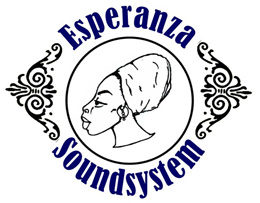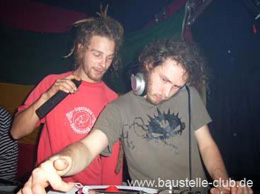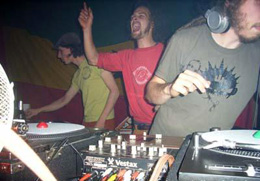 ESPERANZA Soundsystem ----------------------------
Hailing from Freiburg in Southern Germany, Selectah Easy T Jam and Mr. Salamander
run tings with their Esperanza Sound in the sunny Bermuda triangle of Switzerland,
France and Germany since 2003. Originally starting out with legendary nights at
the autonomous centre KTS word spread fast about the explosive style mix between
Reggae, Dub, Balkan, Ska, Electronica over Mestizo, and Klezmer. The unstoppable
duo soon continued to wreck other sound systems in the area, always with good
vibes, their megaphone, a Roland Space Echo and crates and crates of killah discs.
Meanwhile Esperanza is an instituion of the German underground, their regular
nights at the White Rabbit, the Three King's Jam at the KTS and - best of all -
the Offbeat Vibration Festival in June push things forward big time, and far off
the mainstream. The boys kicked it during countless parties with people like
Heartical Sound (F), Mungos Hifi (UK), Bo Marley (DK), Dunkelbunt (A), Clouds
(FIN), Sequoia Sound (UK), Volfoniq (F), Solo Banton (UK), Dub Club LE (D),
Livelihood (Sweden), Gimpelakwa (D), Irie Révoltés (D), Ganjaman (D), Le Fils de
Theuphu (Paris), Radikal Dub Kollektiv (CRO), The Senior Allstars (D), Locomondo
(Athens/GRE), Golem System (ESP), and - of course - the Jahtari Riddim Force.
During a 4-month stay in Jamaica in early 2009 Selectah Easy T Jam recorded tons
of hi-charged vocals with artists like I Bogle, I David, Black Warrior, Wildlife,
Triple D and many more for Mungo's Hifi, Jahtari and his own soon-to-start label.
Wheeler's rough "Breeze Blow" (JTR NET 18) gives a glimpse into the upcoming
niceness - yardstyle.
LINKS:
contact: booking [at] esperanza-soundsystem.eu
website: www.esperanza-soundsystem.eu
myspace: www.myspace.com/esperanzasoundsystem


.............................................................................