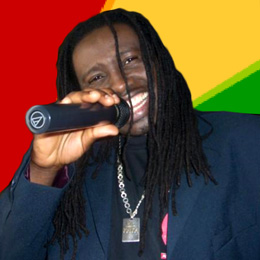 EL FATA ----------------------------
Born in Lagos, Nigeria, El Fata started out as a drummer in his school band and
discovered reggae music during his teens. After being inspired by Jamaican acts
such as Michael Rose, Don Carlos, Gregory Isaacs, Cocoa Tea and Dennis Brown the
decision was made to become a singer. He began composing songs in both English
and French and recorded his debut album, "The Coming Of El Fata" in 1999. He and
The Living Spirit Band were a popular draw at festivals and concerts throughout
the Ivory Coast until 2004, when the worsening political situation made a move to
move to England necessary.
A chance encounter with the leftfield reggae outfit Bamjimba resulted in "Wakeye
Wakey", their first collaboration, recorded and mixed at the Mad Professor's
Ariwa studio. His track "Mary Jane" for Mungo's Hifi turned out to be a hit tune
and resulted in the so-called "Mary Jane" 10"s, also featuring Soom T's "Did
You Really Know". After a number of cracking live performances with Mungo's Hifi,
Tapes, the Jahtari Riddim Force, Mikey Murka, Clause Four and many more El Fata
continues to spread the good vibes on stage big time. More dynamite to come soon!
El Fata hompage: www.elfata.net
El Fata myspace: www.myspace.com/elfata1
.............................................................................