previously in BOOKS:
Pulp Fiction classics: Dr. Fu-Manchu
Recommended stories:
Pulp Fiction Classics: Dr. Fu-Manchu
Via the nice Bookmooch site I recently got hold of a copy of "The Insidious Dr. Fu-Manchu", the first novel in
Sax Rohmer's classic series. A masterpiece of suspense, this book is highly recommended to every armchair
adventurer and detective-story addict.
Written in 1913 and taking place in the always foggy metropolis London the basic plot is about the ultimate
villain of them all: a Chinese master criminal of untold wealth, intellect and occult powers whose goal is nothing
less than world dominion! He is Dr. Fu-Manchu, master of disguise and cunning devilry, who commands an army
of obscure henchmen - ranging from hunch-backed Burmese ninjas up to a beautiful slave-girl - ready to reach
out for the very soul of Western civilization. Whatever that is.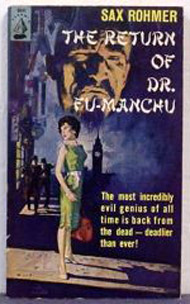 His antagonists are Denis Nayland Smith, a plodding Englishman with vague
connections to Scotland Yard and an adventurer history in Burma, and his
Chemist friend, Dr. Petrie, who's the breathless first-person narrator of this
wonderful yarn. Your archetypical stiff-upper-lip heros who will risk neck and
soul for king and country.
The only problem in Rohmer's stories are his constant racist undertones,
clearly a product of its time. It's all about the then widespread fear of the
"Yellow Peril", or the fear of all Asians uniting to throw off the yoke of the
West. So the good guys are always on the watch to rescue the white races
of "the most inscrutably mysterious race, the Chinese". What exactly the
peril is here is shrouded in the thick London fog - but you can be sure that
the evil Doctor is just planning his next dastardly move. The good news is
that these stereotypes are so overdrawn, fantastic and far from reality as if
Tolkien is writing about the Orks. Rohmer is never at a loss of new
picturesque lines to rumble on about "that yellow Satan". Something like:
"The millions might sleep in peace - the millions in whose cause we labored! -
but we who knew the reality of the danger knew that a veritable octopus had
fastened upon England - a yellow octopus whose head was Dr. Fu-Manchu,
whose tentacles were dacoity, thuggee, modes of death, secret and swift,
which in the darkness plucked men from life and left no clew behind. "
Allright, a yellow octopus... Hard to take such stuff seriously so it's really easy to view it all as just some very
funky form of villainy and get on to the bone of the stories - breathless suspense and evil schemings that might
put the best of the Sherlock Holmes mysteries in shadow.
Prepare yourself for murderous centipedes that leave the mark of a kiss on their dead victims. Guard yourself for
visits to smoky opium dens in the belly of the London docklands. Get ready to see brilliant engineers drugged
with Hasheesh so that their plans for a new kind of torpedo can be stolen with the help of a monkey. Witness
the resurrection of seemingly dead bodies with chemicals "that are not recorded by any civilized science".
Shudder in fear when the maniac ghost of an un-dead police inspector haunts the house of his widow. Oriental
poisons, deadly mushrooms and fiendish bacterias all become wicked weapons in the hands of this crazy but
brilliant genius of crime. The ultimate villain of them all - Dr. Fu-Manchu!
Can Smith and Petrie rely on pluck and luck to thwart the hideous plans of the sinister Chinaman? Not for at least
thirteen novels, so much can be told. Rohmer scored a big bestseller with his creation of the evil Doctor and made
a living off of it all his life so you can rely upon fine cliffhanger endings and upon Fu-Manchu always walking out of
the ashes. No matter what the odds.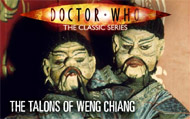 _____Fu-Manchu in Dr. Who
The Devil Doctor definitely left it's mark in 20th century popular culture. A
bunch of movies were produced with the theme. Among the actors who
played the great villain were such icons like Boris Karloff, Christopher Lee
and Peter Sellers. The Dr. Who story "The Talons Of Weng-Chiang" (1974)
was based on the character, And let's not forget the Trojan Rocksteady
classic "Fu-Manchu" by Desmond Dekker!
___Desmond Dekker - Fu Manchu
Although stereotypes never left his stories Sax Rohmer, whose real name was Arthur Sarsfield Ward (1883-
1959), later on started to present Asians in a more positive light - even Dr. Fu-Manchu himself, who joins in the
final books with Western agents to fight the Chinese Communists. Ironically enough when Rohmer died in 1959
at the age of 76 he succumbed to the Asian flu.
To get the Fu-Manchu books you should preferably check Bookmooch or your local flea market. The cheap pulp-
paperbacks with the fine old-school B-movie-style-covers should be around there somewhere. For the extra nice
feel of icy terror in your veines!