previously at OTHER:
THE FUNKIEST COVER EVER
Allright, you all know the situation when you rummage through old flea market vinyl and stumble
over a record with a cover where you think: "God, please let that be an optical illusion!". These kind
of covers can be either ugly - or they can be SO ugly that they start to possess a certain charme.
Once you got the taste you might even start to collect records just for the sake of owning these
impossible pics.
So we'd like to start a small contest here: Send in the FUNKIEST COVER you know to
headquarter [at] jahtari.org, if possible with some infos and a MP3 we could stream along, and see if
you can make it into the hall of fame.
Recommended stories: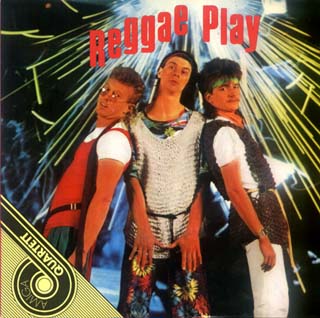 Click on the pic to enlarge. Hold tight to your seat first
and wear some protective glasses!
Today we learn how to spell the word "style" in
a new way! With the cover of Reggae Play's 7",
1986, straight from my parent's dusty attic.
Reggae Play came from the then Socialist
country of East Germany, (some might
remember it as the GDR), same as we. Where
style meant something different back then than
elsewhere. As did "Reggae".
Appearing on the state-owned record label
AMIGA this 7" of the highly successful
"Quartett"-series features some fine Vermona-
synth and -drummachine powered emulation of
what the guys thought Reggae must sound like.
Don't worry if you don't understand the lyrics,
it's for your own good!
ICH BIN VERLIEBT ("I'm in love")
DRAUSSEN WARTEN ("Wait Outside")
ICH BIN GANZ ANDERS
("I'm Totally Different")