previously in REGGAE:
crazy ebay: Tubby's bass speaker!
Recommended stories:
Other fine Blogs: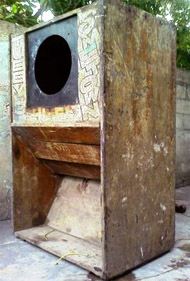 ebay of the year: King Tubby's Bass Speaker!
Just found this one over at MusicThing: One of the bass speakers
of King Tubby's legendary late '60s Hometown Hi-Fi sound
system showed up in a yard in Water House, Kingston, Jamaica.
(Near to Tubby's Firehouse studio, at 38 St Lucia Road). And has
just been sold via ebay for $617. The new happy owner is most
likely DJ Derek, who "is a bit of a local superstar in Bristol & is
notorious for having the largest collection of dub, rocksteady,
reggae,ska.. you name it, this side of anywhere...". Congrats
man! Put that one up in a museum! If it survives the shipping
from Jamaica.
This scratched crate of wood is probably one of the most vibes-
soaked items in musical history. The first Dub tunes EVER may
have been played via it during the dances! And imagine how many
tons of the good weed have been smoked around, on top and
even inside it! My God...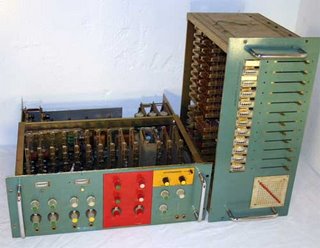 ______Kraftwerk's vocoder
the vocoder Kraftwerk used on "Autobahn". A prototype - you
couldn't buy vocoders in shops back then - built to order by a
local electronics company from Düsseldorf. It eventually sold for
$12.500...