A-Side
(click HERE to enlarge)

B-Side
(click HERE to enlarge)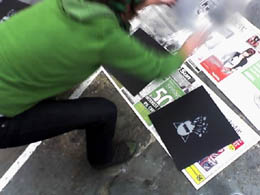 manually stencilled covers!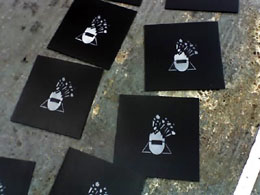 the final results


[WERK 015] disrupt - Tubby ROM Module / Foundation Bit
Two Jahtari classics (from JTR NET03 and JTREP01) appearing on wax now on the excellent
WERK DISCS label from London. That makes it the first Jahtari music to be pressed on vinyl
EVER! A very special moment! And that's only the beginning: the 10-Track album "Foundation
Bit" (which comes bundled with a cool 7"!) will appear in a few weeks, followed up by the
4- issue WERK 10" series. So a lot to look forward to over the summer.
The 12" comes with the nice WERK graphic design and even with manually-stencilled sleeves
(check the pics below)! So every record will look different from the next. And possess this
unique rough charme which only vinyl can have.
The whole thing has been mastered by Dubplates + Mastering in Berlin for that certain extra
blow from your speakers and will be distributed worldwide via Baked Goods. Listen loud to this
one!
A-Side:
disrupt - Tubby ROM Module
04:21
B-Side:
disrupt - Foundation Bit
05:00
To listen in to the tracks simply play the vinyl on the left!
| | | |
| --- | --- | --- |
| BUY | | |
| | | |
| | | |
NOTE: both tunes are out on the "disrupt - Foundation Bit" album on CD now [WERK CD004].
Links: