previously in REGGAE:
Recommended stories:
Other fine Blogs:
FLASHING SOUND SYSTEMS
Anybody claiming that Flash is just a big heap of senseless internet gimmicks can go home now.
Because there's THE ultimate Flash application around at www.littlecountry.net: a simulation of a
Reggae Sound System – actually several of them - complete with MC, Selekta, a crate of excellent
records to choose from, a dub siren and an effects box! You can even switch between a bunch of
different sound systems, all coming with new graphics, new MCs, new tunes and new surprises!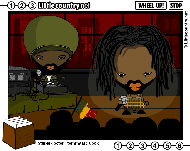 My fave is "REGGEA2", play a record there (dig the waving rasta
flag in the crowd!) and then push "WHEEL UP". The crowd will
first booh and then go off again. Awesome. Also the Mikey Dread
one is great, the selekta in the back is a Lion this time – with an
own microfone!
(click to enlarge)
The whole project contains that much vibes and soul that you can almost see the ganja smoke that
must have been skillfully coded into the lines of funky ActionScript there. Also check the crazy other
setups (three are Hip-Hop) and the superfunny dance games. So skin one up and turn up your
amp! Highly, highly recommended!
(Big thanks to KRIS KEMIST from Realityshock for that!)