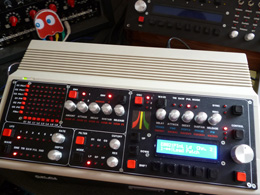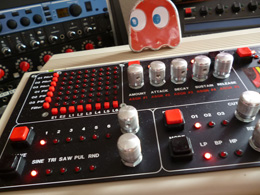 Based on the highly versatile MIDIbox platform designed by Thorsten Klose the SID synth is probably
the coolest of all DIY projects. It's highly recommended to build your own, but it's not exactly a thing
for beginners. There are no complete kits available, tracking down all parts and getting a nice
frontplate done can be cumbersome. That's why we offer an assembly service for that beast of a
machine.
The SID was the sound chip in the Commodore C64 home computers in the 1980s, responsible for
thousands of classic game soundtracks and simply is THE sound of 8bit music. It's an amazing and
surprisingly versatile synthsizer all in itself, but the problem was always to give it some hands-on
controls, so it can be used like any other hardware synth out there. Thorsten Klose finally came up
with a genius solution some years back - the MIDIbox platform. A whole bunch of different music
gear can be built from the same parts, like the OPL3-FM Synth (with the Monkey Island sound) or
a 808 clone, but the SID remains the masterpiece.
It's a monophonic machine with three oscillators and lots of waveforms to mix and choose from. In
the Multi mode you can also play polyphonic sounds, like chords and pads. Gimmicks range from a
great arpeggiator, special Drum and Bassline modes, wavetables and other jaw-dropping features,
all explained over HERE. Soundwise it can be very 8bit, of course, but it's also capable of doing a lot
more things you'd never expect, like a subbass, great pads and wicked effects. Of course, it's also
equally useful to make techno, breakcore, hiphop or any other music. Plus it rocks playing it live.
The best thing about it is the brilliant handling. Everything can be done via a simple and straight
menu interface, but there's a knob or button for direct control for most parameters on the control
surface. Absolute highlight is the modulation matrix: there you can assign modulation sources and
targets within a second (like LFO1 -> Osc 1 Pitch for a Dub siren effect). A very powerful tool and the
heart of sound design, this usually is a pain in the ar**e with other machines, but here it's just plain
fun. Not to mention all those SciFi-movie-looking LEDs . Check the videos below to see (and hear) more.
The synth can be built into any case, but of course the funkiest is an original Commodore C64 shell.
These came in two versions: the classic "breadbox", and the later flat one. The darker case of a C16
works as well and looks great. The next two synths will come if the FLAT case, see pic + video. Apart
from all things listed HERE this baby comes with the following extras:
has two SID 8580 inside (= the newer chips with better filters and improved sound). This
means it's actually TWO independent synths in one that can be used at the same time, each
operating on its own MIDI-channel and with its own audio output. You can easily switch
between them.
built into a original Commodore C64 case, it comes with a special deluxe Jahtari frontplate, high
quality metal knobs for an excellent feel and cool 80s style buttons.
a lot of presets created by disrupt are stored inside, instantly ready to use for some Jahtari-
style jamming. The rest are the quite useful sounds that already came along with the project.
There's storage space for 2 x 128 presets (Bank A and B) plus a special memory for storing
combinations of those sounds, called "Ensembles".
power supply works from 100-240 V = worldwide. Outside Europe (or UK) you just need a
standard adapter for the power plug.
connections on the back: Audio Out SID1, Audio Out SID2, MIDI In & Out for loading or storing
your presets. Core DC In, SID DC In, power supplies included.
comes with a printed manual and the new firmware, which vastly improved the beat sync of
the LFOs (crucial for things like a 'wobble bass')
If you have any questions just get in touch with gear <at> jahtari.org! Here are some videos showing
the thing in action:
VIDEO 1 -------------------------->
The making of the riddim for Tikiman's "Who Goes There" (from the Nah Ina It EP), using the
SID synth and a massively pimped up Korg Monotron Delay...
VIDEO 2 -------------------------->
The making of "Budokan Dub", a version of the main theme from the classic 1989 martial arts game.
VIDEO 3 -------------------------->
the machine playing a cool riddim that's originally by Tapes. Apart from a few speech samples only
sounds from the SID synth were being used.